To make the Classic French Toast recipe, first 4 slices of bread, 2 large eggs, 1/2 cup milk, 1 tsp vanilla extract, 1/2 tsp ground cinnamon, a Pinch of salt, Butter or cooking oil for frying, Maple syrup, powdered sugar, or fresh fruit for serving (optional).
Imagine waking up to the irresistible aroma of warm, golden French toast cooking on the stove. The combination of fluffy bread, creamy custard, and a hint of sweetness makes French toast a beloved breakfast classic. Whether you're enjoying a leisurely weekend brunch or a quick weekday treat, this recipe is sure to satisfy your cravings. Let's dive into the world of homemade French toast and learn how to recreate this delightful dish in your own kitchen.
Remember It Later
This recipe! Pin it to your favorite board NOW!
Pin
This classic French Toast recipe takes a few simple ingredients and transforms them into a breakfast delight. Thick slices of bread are dipped into a rich egg and milk mixture, infused with vanilla and a touch of cinnamon. The bread is then cooked until golden brown and crispy on the outside while maintaining a soft, custard-like interior. Finished with your favorite toppings like maple syrup, fresh berries, or powdered sugar, this French toast recipe is a timeless crowd-pleaser that will bring joy to your mornings.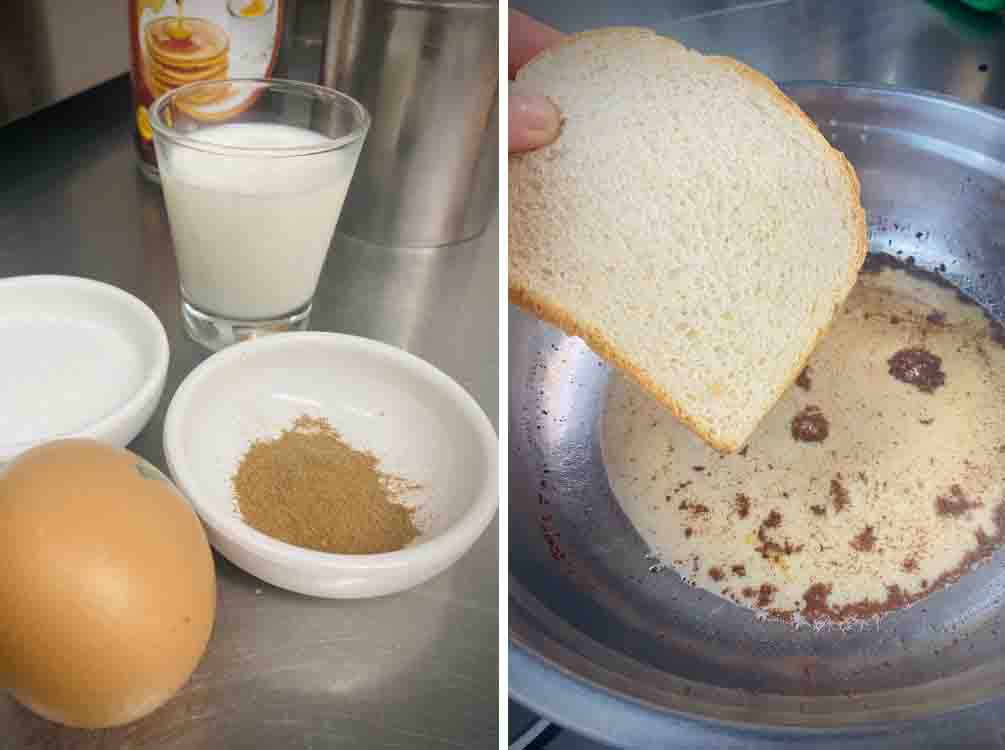 Can I use regular sandwich bread for the classic French Toast recipe?
While thicker bread slices like brioche or challah are traditionally used for classic French Toast recipes, you can definitely use regular sandwich bread. Just make sure it's not too thin, as it may become too soggy during soaking.
Can I make French toast ahead of time?
French toast is best enjoyed fresh, but you can prepare the custard mixture in advance and refrigerate it overnight. When ready to cook, dip the bread slices in the mixture and proceed with the recipe.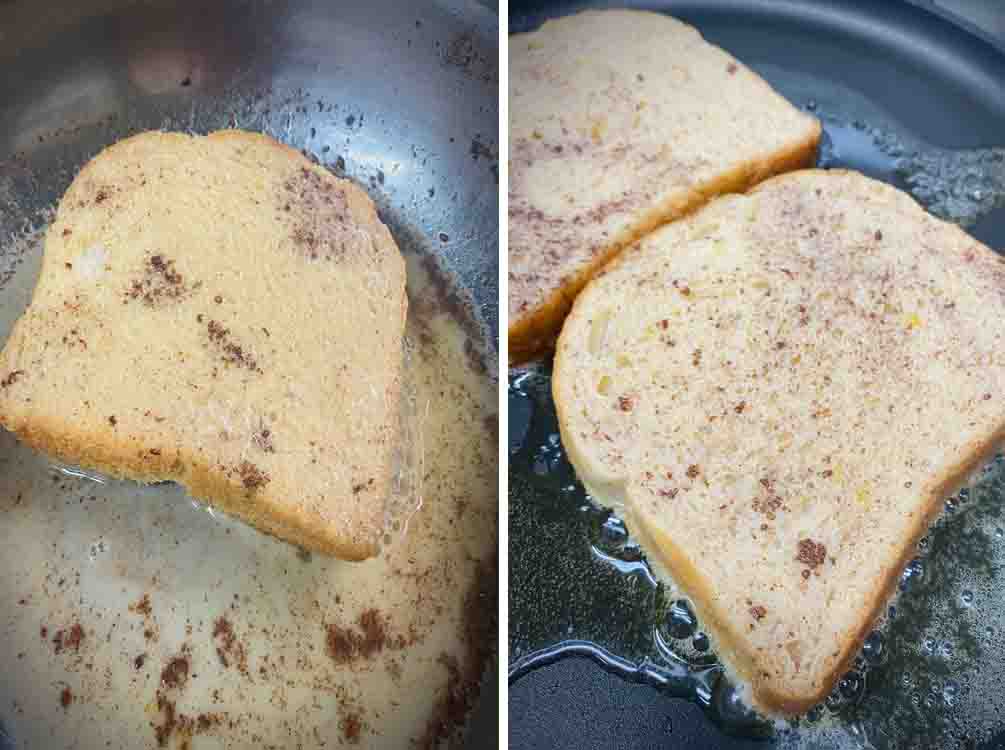 Can I freeze leftover French toast?
Yes, you can freeze cooked French toast. Let it cool completely, then place individual slices in airtight containers or freezer bags. To reheat, simply toast it in a toaster or warm it in the oven.
How can I make French toast healthier?
To make a healthier version, you can use whole wheat bread, reduce the amount of sugar or use a sugar substitute, and opt for a low-fat milk or plant-based milk alternative.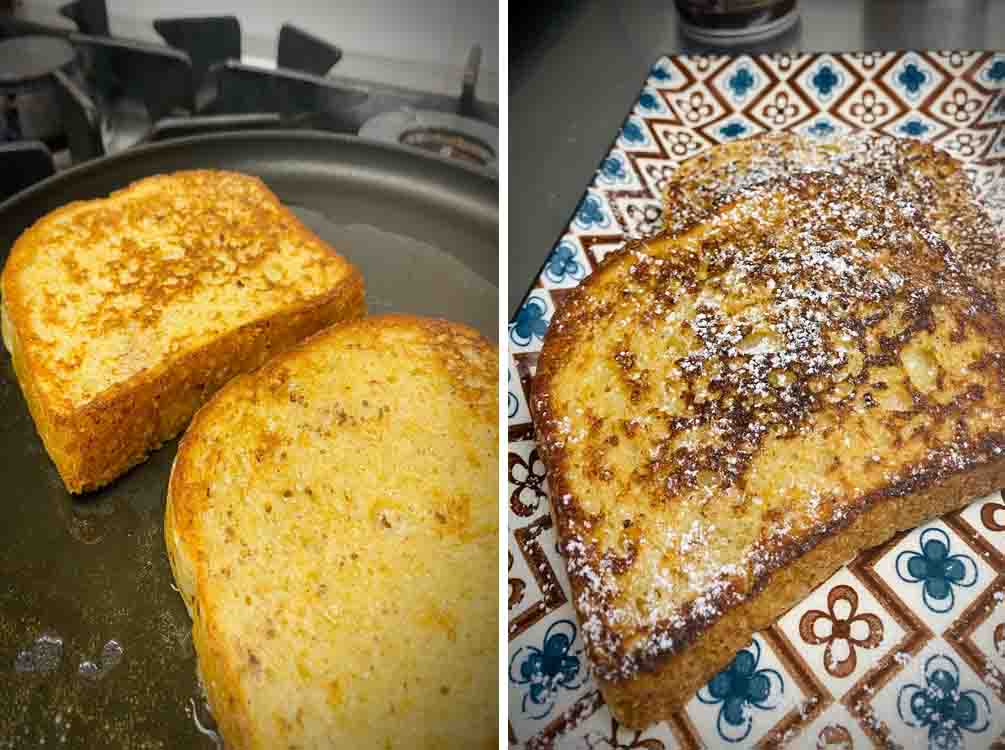 Tips:
For a richer flavor, you can use a combination of milk and cream, or even substitute the milk with heavy cream.
Adding a pinch of nutmeg or a splash of orange zest to the egg mixture can enhance the flavor profile of your French toast.
Ensure that your skillet or griddle is preheated properly before adding the bread slices to achieve that perfect golden brown color.
To keep the cooked French toast warm, place it on a baking sheet in a low oven (around 200°F) until ready to serve.
Substitutions and Variations:
Experiment with different types of bread like cinnamon swirl, sourdough, or whole wheat for unique flavor variations.
Get creative with toppings by adding sliced bananas, chopped nuts, a drizzle of chocolate syrup, or a sprinkle of cinnamon sugar.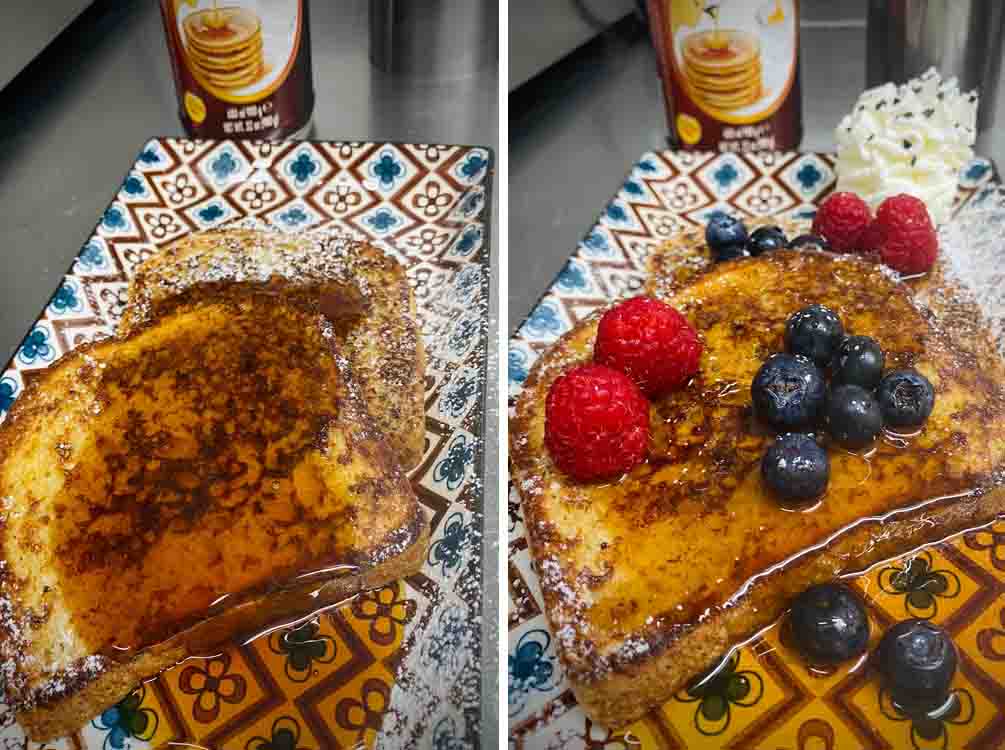 Closing:
Now that you have the recipe for this classic French toast, it's time to gather your ingredients and start cooking. Experience the joy of creating a delicious and comforting breakfast that will delight your family and friends. Don't forget to share your experience and let us know how your French toast turned out. Happy cooking!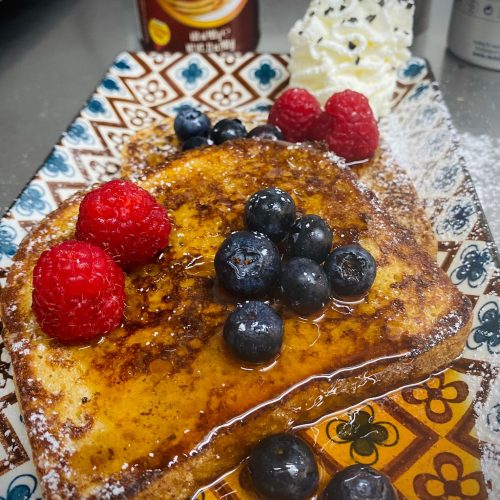 French Toast Recipe – A Breakfast Delight
French toast is a classic breakfast dish that is loved for its rich, custard-like texture and delicious flavor. It's a simple and versatile recipe that can be customized to your taste preferences
Print
Pin
Rate
Ingredients
8

slices of thick-cut bread (such as brioche, challah, or French bread)

4

large eggs

1

cup

milk or cream

1

teaspoon

vanilla extract

½

teaspoon

ground cinnamon

Pinch of salt

Butter or cooking spray, for greasing the pan

Maple syrup, fresh berries, powdered sugar, or other desired toppings
Instructions
In a shallow bowl or baking dish, whisk together the eggs, milk or cream, vanilla extract, ground cinnamon, and a pinch of salt. Ensure that the mixture is well combined.

Preheat a large non-stick skillet or griddle over medium heat. Add a pat of butter or lightly coat the pan with cooking spray to prevent sticking.

Dip each slice of bread into the egg mixture, allowing it to soak for a few seconds on each side. Make sure both sides are evenly coated with the mixture.

Place the soaked bread slices onto the preheated skillet or griddle. Cook for 2-3 minutes on each side, or until golden brown and crispy. Adjust the heat if needed to avoid burning.

Once the French toast is cooked to your desired level of doneness, transfer it to a serving plate. Repeat the process with the remaining slices of bread.

Serve the French toast warm with your favorite toppings such as maple syrup, fresh berries, powdered sugar, or a dollop of whipped cream.
Nutrition
Calories:
350
kcal
|
Carbohydrates:
40
g
|
Protein:
10
g
|
Fat:
10
g
|
Fiber:
2
g
PIN IT… TO Save It For Later!