As the autumn leaves start to fall and the temperatures start to drop, there's nothing quite like a warm slice of pumpkin bread to welcome in the season. But why settle for a plain pumpkin bread when you can add some extra depth and flavor with coffee and walnuts?
This Coffee Walnut Pumpkin Bread recipe is the perfect combination of warm spices, rich coffee, crunchy walnuts, and sweet pumpkin. It's a treat that's perfect for breakfast, a midday snack, or even dessert.
Remember It Later
This recipe! Pin it to your favorite board NOW!
Pin
Serve your Coffee Walnut Pumpkin Bread warm or at room temperature with a cup of coffee or tea for the ultimate autumn treat. The flavors of pumpkin, coffee, and walnuts all come together to create a warm and comforting bread that's perfect for any occasion.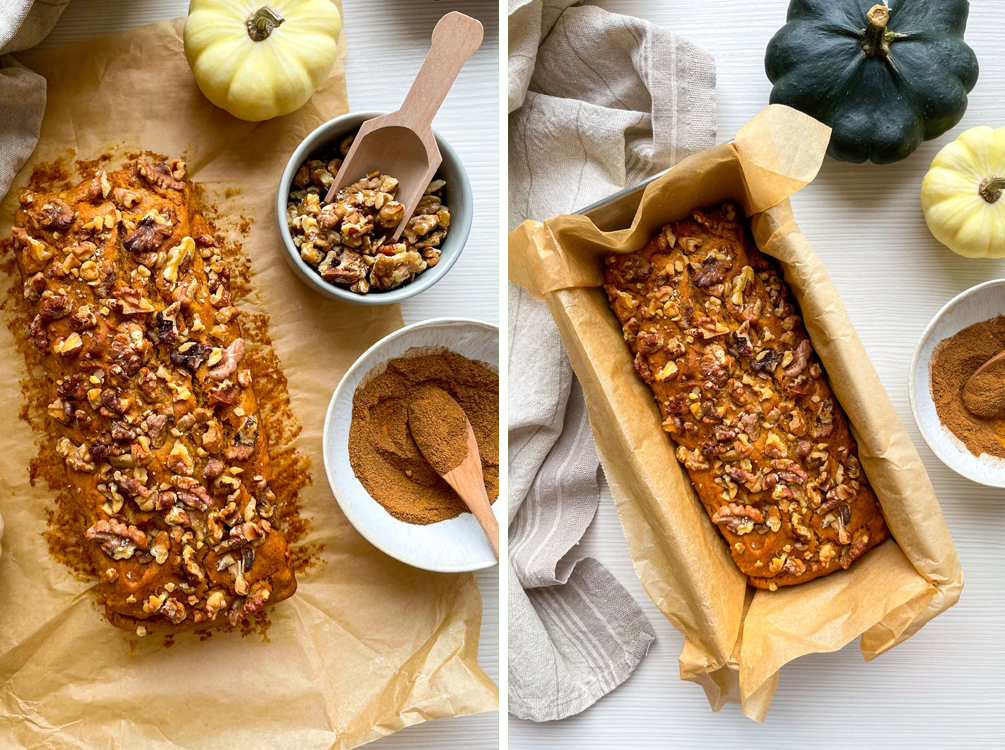 Do I Eat Pumpkin Bread for Dessert Or Breakfast?
Pumpkin bread can be enjoyed both as a dessert or for breakfast. It's a versatile treat that can be enjoyed any time of day.
For breakfast, pumpkin bread can be a great way to start your day with a sweet and satisfying treat. It pairs well with a cup of coffee or tea and can be served on its own or with a spread of butter or cream cheese.
As a dessert, pumpkin bread can be served with a dollop of whipped cream or a scoop of vanilla ice cream for a decadent treat. It's perfect for serving at autumn gatherings or as a cozy dessert on a chilly evening.
Ultimately, whether you eat pumpkin bread for breakfast or dessert is entirely up to your personal preference.
Is This Bread Recipe Vegan?
The recipe for Coffee Walnut Pumpkin Bread provided in the previous answer is not vegan as it includes eggs and butter. However, with some modifications, the recipe can be made vegan-friendly.
To make a vegan version of this bread, you can substitute the butter with vegan butter or coconut oil, and replace the eggs with a vegan egg substitute such as flaxseed meal or applesauce. Additionally, make sure to use non-dairy milk and skip the whipped cream or ice cream if serving as a dessert.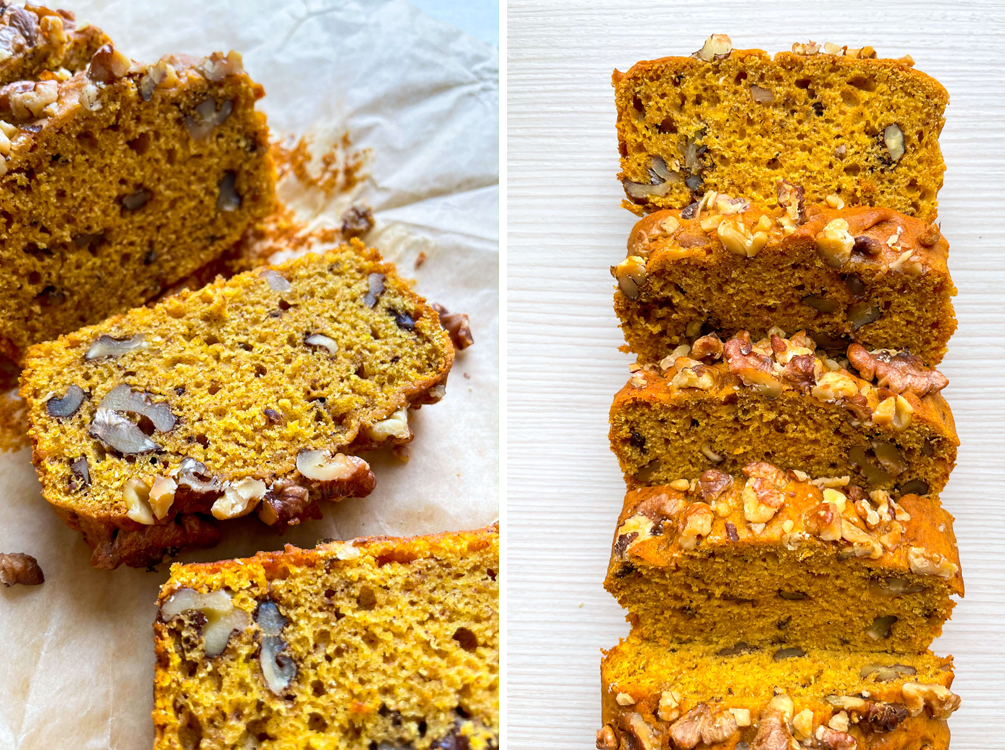 There is Coffee IN This Walnut Pumpkin Bread?
Yes, there is coffee in this Coffee Walnut Pumpkin Bread recipe. The recipe calls for 1/4 cup of strong coffee, which is mixed into the batter along with the pumpkin puree and other ingredients. The coffee adds a rich, deep flavor that complements the warm spices and sweet pumpkin. It's a great way to incorporate coffee into a baked good and create a unique twist on traditional pumpkin bread.
What Is The Difference Between Pumpkin Puree And Pumpkin Pie Filling?
Pumpkin puree and pumpkin pie filling are two different products with distinct characteristics and uses.
Pumpkin puree is made by cooking and pureeing pumpkin flesh, resulting in a smooth and thick puree that is often sold in cans. It has a natural, mild pumpkin flavor and is unsweetened and unseasoned. Pumpkin puree is a versatile ingredient that can be used in a variety of recipes, such as soups, stews, and baked goods like muffins, bread, and cakes.
On the other hand, pumpkin pie filling is a canned product that includes pumpkin puree mixed with sweeteners and spices, such as sugar, cinnamon, nutmeg, and cloves. The mixture is already seasoned and sweetened, making it convenient for making pumpkin pie or other pumpkin-flavored desserts. However, it may not be suitable for savory recipes as the added sweeteners and spices can alter the taste.
It's important to note that sometimes pumpkin pie filling and pumpkin puree are labeled similarly or may have similar packaging, so it's crucial to read the labels carefully to ensure you are getting the product you need for your recipe.
In summary, pumpkin puree is a plain, unsweetened ingredient that can be used in various recipes, while pumpkin pie filling is already sweetened and spiced, specifically designed for making pumpkin pies and desserts.
Can This Recipe Be Made Without Nuts?
Yes, this Coffee Walnut Pumpkin Bread recipe can be made without nuts. If you prefer not to use nuts or have a nut allergy, you can simply omit the chopped walnuts from the recipe. The bread will still turn out delicious with the same flavors and texture.
If you want to replace the nuts with something else, you could consider using pumpkin seeds, sunflower seeds, or even chocolate chips. However, keep in mind that adding chocolate chips will change the flavor profile of the bread, making it sweeter and less nutty.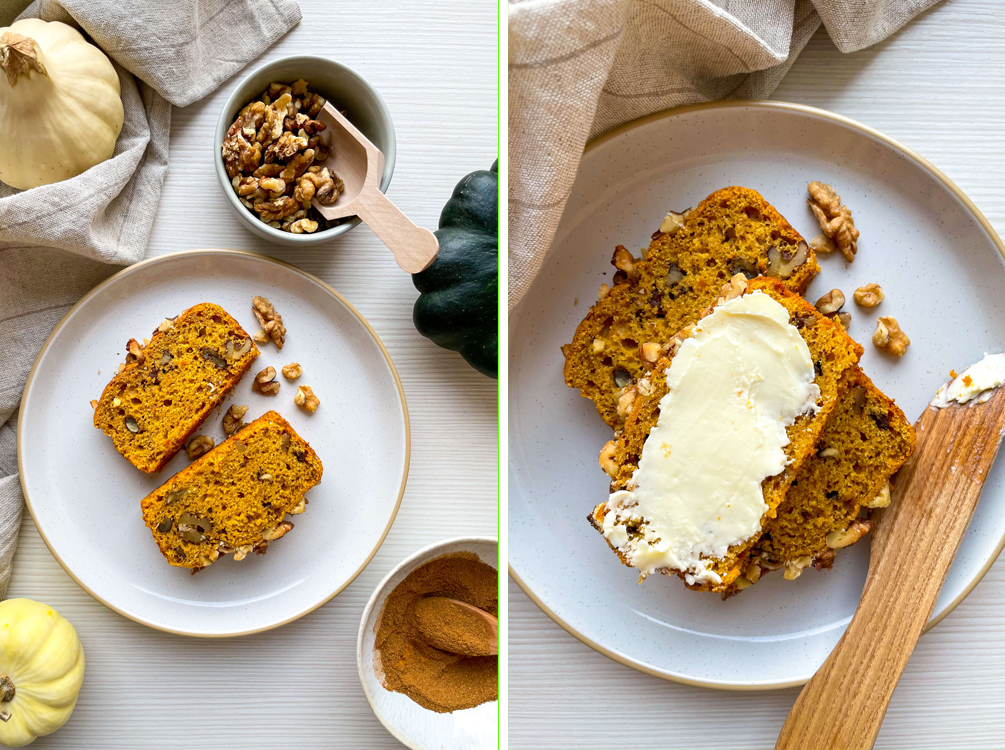 How To Store Leftover Pumpkin Bread?
To store leftover pumpkin bread, follow these simple steps:
Allow the bread to cool completely before storing it. If you store it while it's still warm, it can become soggy or create condensation in the container, which can lead to mold.
Wrap the bread tightly in plastic wrap or aluminum foil. This will help keep it fresh and prevent it from drying out.
Place the wrapped bread in an airtight container or resealable plastic bag. This will protect it from any moisture or air that can cause it to go stale.
Label the container with the date you baked the bread so you can keep track of how long it has been stored.
Store the container in a cool, dry place, such as a pantry or cupboard. You can also store it in the refrigerator if you prefer, but be aware that it may become denser and dry out faster in colder temperatures.
Pumpkin bread can be stored at room temperature for up to three days, or in the refrigerator for up to one week. If you want to keep it longer, you can freeze it for up to three months. To thaw frozen pumpkin bread, simply remove it from the freezer and let it sit at room temperature for a few hours or overnight.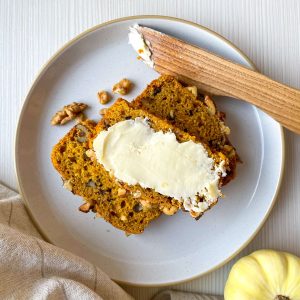 Delicious Coffee Pumpkin Bread Recipe
Enjoy a classic sweet comfort food with a twist, when you use my recipe to bake a loaf of coffee pumpkin bread with walnuts.
The made from scratch bread can be enjoyed all year long, not just in the Fall when pumpkin spice is trendy. 
Print
Pin
Rate
Ingredients
1½

cup

all-purpose flour

1

teaspoon

baking powder

1

teaspoon

baking soda

1

teaspoon

cinnamon

½

teaspoon

ground ginger

½

teaspoon

ground nutmeg

¼

teaspoon

salt

½

cup

unsalted butter, softened

½

cup

granulated sugar

2

eggs

½

cup

pumpkin puree

¼

cup

strong coffee, cooled

½

cup

chopped walnuts
Instructions
Preheat your oven to 350°F (175°C) and grease a 9×5 inch loaf pan.

In a medium bowl, whisk together the flour, baking powder, baking soda, cinnamon, ginger, nutmeg, and salt.

In a separate bowl, cream the butter and sugar together until light and fluffy. Add in the eggs, one at a time, and beat until fully incorporated.

Mix in the pumpkin puree and cooled coffee until combined.

Gradually mix in the dry ingredients until the batter is smooth.

Fold in the chopped walnuts.

Pour the batter into the greased loaf pan and smooth out the top.

Bake for 45-50 minutes, or until a toothpick inserted into the center comes out clean.

Let the bread cool in the pan for 10 minutes before removing it and allowing it to cool completely on a wire rack.
PIN IT… TO Save It For Later!