Looking for the BEST authentic Baba Ganoush recipe? This step-by-step tutorial will show you
exactly how to make this creamy and smoky eggplant dip with tahini, garlic, and citrus.
Baba ganoush, a Middle Eastern eggplant, and tahini-based dip takes on a concentrated smoky flavor
when the eggplant is first charred over a gas flame or on the grill, then spun in a salad spinner to
remove moisture from the flesh.
Most importantly, this is an appetizer consisting of mashed cooked eggplant, olive oil, lemon juice, and sometimes tahini.
Slowly emulsifying the olive oil with the tahini and eggplant mixture gives this vegan dip a creamy yet varied texture.
( The book is coming next spring; you can sign up to receive free email updates with my latest blog posts and info about its release here.)
Remember It Later
This recipe! Pin it to your favorite board NOW!
Pin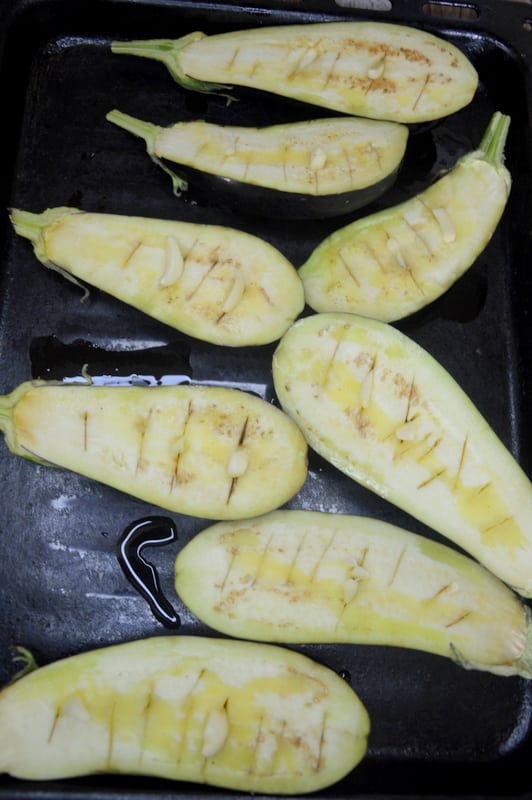 My recipe for Baba Ganoush is one I learned from my Lebanese friends.
It's authentic, simple to make, and the perfect
accompaniment to your party platters. So if you are looking for an alternative, you have to try this
one!
To simplify, I've created the yummy way to bring this lovely smoky flavor into the dip without too
much hassle.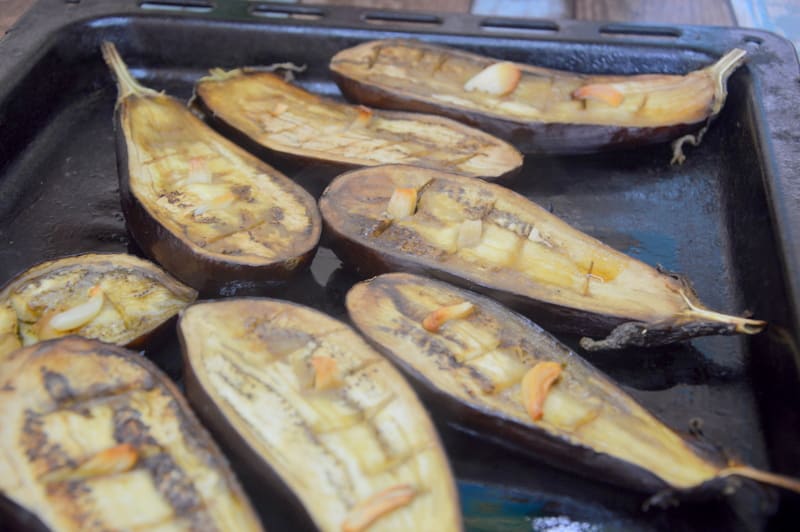 Baba Ganoush is much easier to prepare than most people think! Be sure to grab my tips and please
let me know how this recipe turns out for you in the comments!
And believe me, this Aubergine recipe it's worth it!  I hope it will be your new favorite.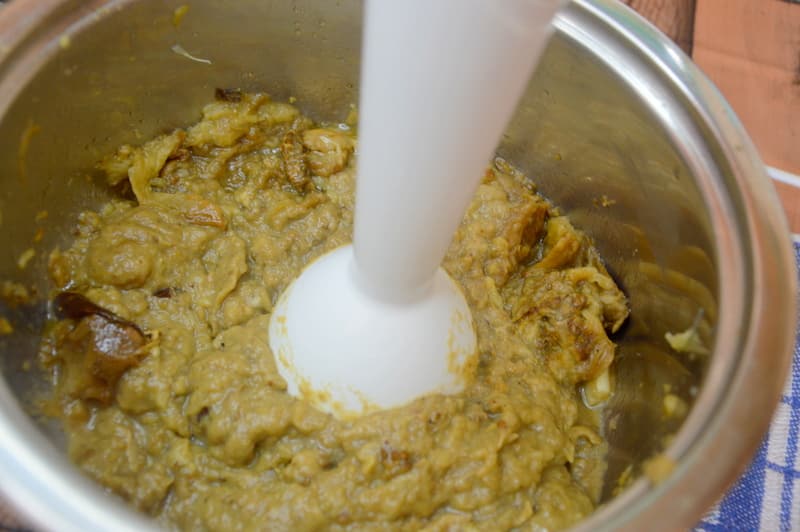 It's a tasty appetizer or snack dish that takes 5 minutes to make and 45 minutes to smell the eggplant
roasting in your kitchen. What I love about it is the fact that it's so simple to whip up and that it's vegan, gluten-free, keto-friendly!
I like this dip so much that if I have to choose between baba ganoush and hummus, it's baba every
time. ( The book is coming next spring; you can sign up to receive free email updates with my latest blog posts and info about its release here.)
Are you a baba ganoush lover too?
What to Serve with Baba Ganoush
I like to serve my baba ganoush with sturdy veggies like carrot sticks, cucumber rounds, and bell
pepper rings. Fresh salad is perfect too.
*EGGPLANT SELECTION: Large eggplants tend to contain more seeds, which can produce a
bothersome texture. So, it's better to use 2 small eggplants that weigh about 2 pounds total, rather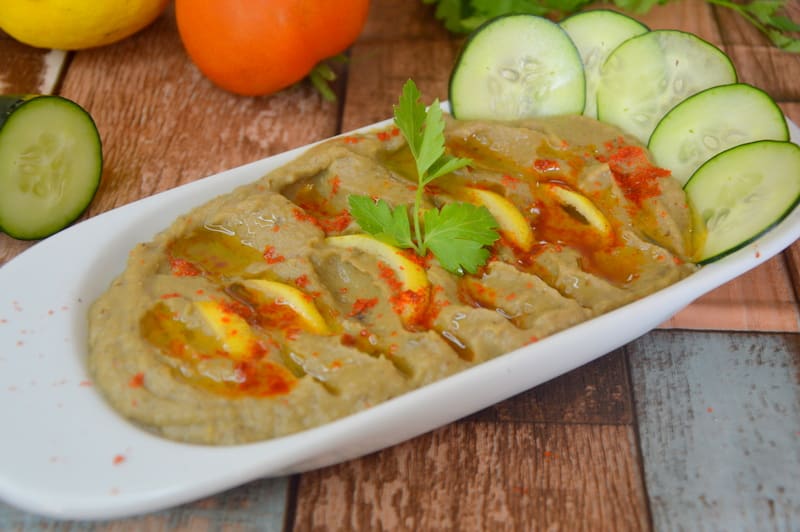 then 1 large. Choose eggplants that are shiny and smooth (no mushy parts), and feel heavy for their
size.
It's super creamy with a smoky, garlicky taste. It has a richness to it that will leave you thinking it
must not be good for you. But don't worry; this dip recipe is 100% healthy. In fact, a 1/3 cup serving
of baba ganoush has only 85 calories!

Turning baba ganoush into a main meal

What can make this different from every baba ganoush experience you've ever had is that this is
meant to be a meal.
The main course. Therefore, No need for extra protein – although some smooshed, warmed
cannellini beans would be welcome. Meanwhile, there is plenty of heft from vegetables, feta cheese, tahini, and
yogurt to keep you satisfied.
However this recipe is written for four, to be perfectly honest if you are really hungry I'd just split it
with one special, baba-loving mate. Or, hmm, graze on it solo throughout the day…
Baba Ganoush (AUBERGINE & TAHINI DIP)
This is an extraordinary method to present Middle Eastern food varieties! The plunge is rich, heavenly, and tastes extraordinary on bread, naan, or with pita! You might need to shower additional olive oil over the highest point of the completed baba ganoush.
Print
Pin
Rate
Ingredients
½

tablespoon

plain yogurt, or more to taste

1

tablespoon

extra-virgin olive oil

⅛

tablespoon

red chile powder

⅛

tablespoon

ground cumin

1

pound

eggplant

2

tablespoons

lemon juice

2

cloves garlic

2

tablespoons

tahini

1

pinch paprika
salt
Instructions
Preheat the stove to 450 degrees F (230 degrees C). Softly oil a preparing sheet.

Split eggplants and brush cut sides with olive oil. Spot face-down onto the readied heating sheet.

Broil in the preheated stove until relaxed, 20 to 25 minutes. Eliminate from broiler and let cool, around 30 minutes.

Scoop substance out of skins and spot in a cross section sifter. Dispose of skins. Press down on substance to eliminate fluid or drippings. Move eggplant tissue to a food processor. Add lemon juice, tahini, garlic, cumin, and chile powder. Shower olive oil on top of everything. Mix well, 45 seconds to 1 moment.

Blend in plain yogurt and season with salt. Present with a sprinkle of paprika over top for embellish.
Nutrition
Calories:
109
kcal
|
Carbohydrates:
9.5
g
|
Protein:
2.7
g
|
Fat:
7.7
g
|
Cholesterol:
0.1
mg
|
Sodium:
51.1
mg
PIN IT… TO Save It For Later!