Slow Cooker Mexican Shredded Beef is a tasty and easy-to-make dish that's perfect for any occasion. Whether you're looking for a simple weeknight dinner or a crowd-pleasing party dish, this recipe is sure to please.
Overall, this recipe works because of the combination of slow cooking, flavorful spices, citrus juices, and versatility, resulting in a delicious and easy-to-make dish that is sure to please.
Remember It Later
This recipe! Pin it to your favorite board NOW!
Pin
Can I use different meat?
Yes, you can use different types of meat in this recipe. Beef chuck roast is a good choice because it has a lot of flavor and becomes tender when slow-cooked, but other cuts of beef like brisket, flank steak, or even beef short ribs can be used as well. You could also use pork shoulder or pork butt for a different flavor profile. Just keep in mind that the cooking time may need to be adjusted based on the type and cut of meat you use. The key is to choose a cut of meat that is suitable for slow-cooking and has enough marbling or fat to stay moist and flavorful during the long cooking process.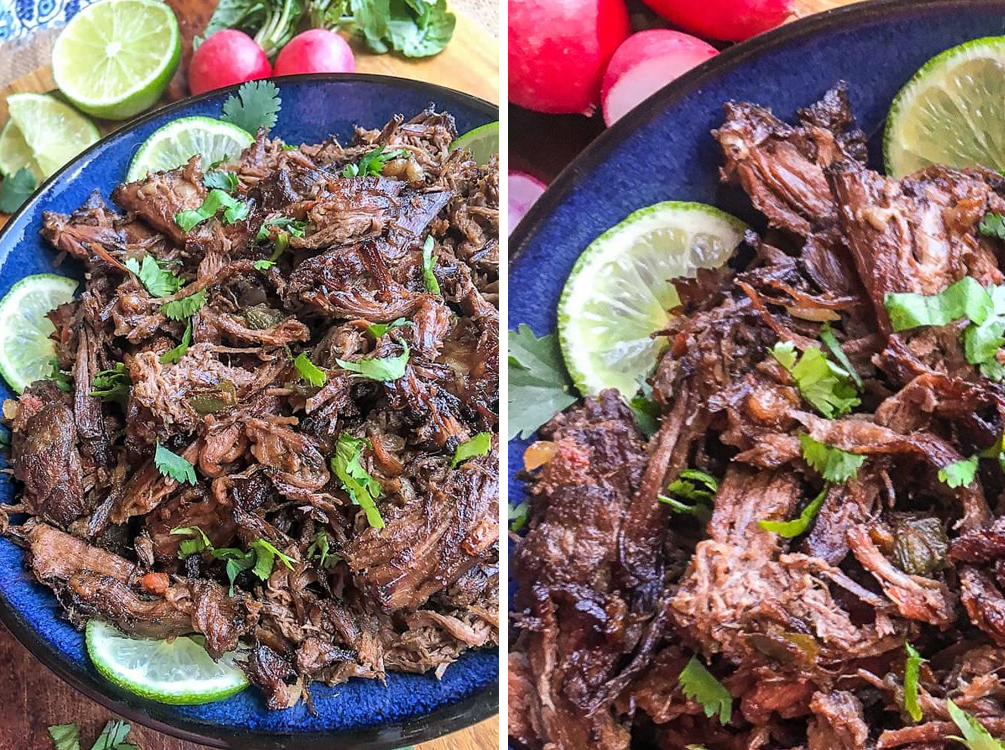 Why does this recipe work?
This recipe for Slow Cooker Mexican Shredded Beef works for several reasons:
Slow cooking: The long, slow cooking process allows the beef to become tender and flavorful. The beef is cooked low and slow in a mixture of beef broth, lime juice, orange juice, tomato paste, jalapeno pepper, onion, and garlic. The result is a meat that is moist, tender, and infused with a rich blend of flavors.
Spices: The spice rub that is rubbed on the beef before cooking contains a blend of chili powder, cumin, paprika, garlic powder, onion powder, salt, and black pepper. These spices add a depth of flavor and a touch of heat to the meat.
Citrus juices: The addition of lime juice and orange juice not only adds flavor to the dish, but also helps to tenderize the meat. The acidity in the citrus juices breaks down the fibers in the meat, making it even more tender.
Versatility: This recipe is very versatile and can be used in a variety of dishes, such as tacos, burritos, enchiladas, salads, and more. The shredded beef can be customized with your favorite toppings and served in a variety of ways, making it a great option for meal prep or feeding a crowd.
How long will the Mexican shredded beef last?
Properly stored, Mexican shredded beef will last in the refrigerator for 3-4 days. To store the leftover shredded beef, allow it to cool to room temperature before placing it in an airtight container and storing it in the refrigerator. If you want to keep the meat longer, it can be frozen for up to 3 months. To freeze the shredded beef, let it cool to room temperature, then transfer it to a freezer-safe container or freezer bag and remove as much air as possible. Be sure to label the container or bag with the date so you can keep track of how long it's been in the freezer. When you're ready to use the frozen shredded beef, thaw it overnight in the refrigerator before reheating it.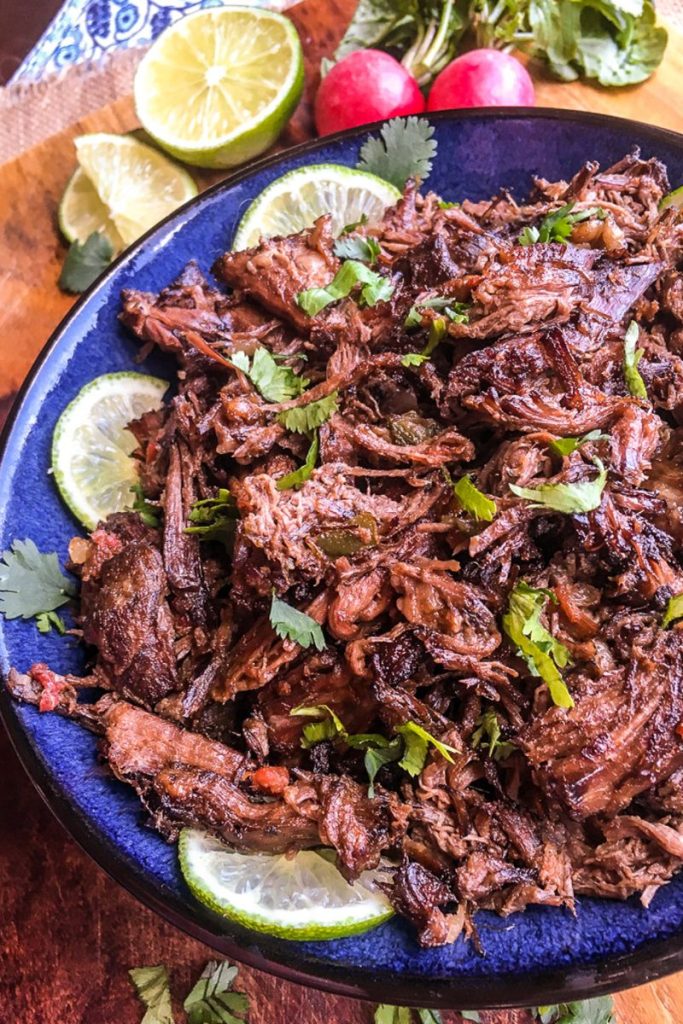 How can I make this dish spicy?
If you want to make this dish spicier, there are several ways to do so:
Increase the amount of chili powder: The chili powder adds heat to the dish, so you can add more to make it spicier.
Use a hotter pepper: The recipe calls for a jalapeno pepper, but you can substitute it with a hotter pepper, such as a serrano or habanero pepper. Just be careful not to use too much, as these peppers can be very spicy.
Add crushed red pepper flakes: You can add a pinch or two of crushed red pepper flakes to the spice rub or to the cooking liquid for an extra kick of heat.
Use a spicy salsa or hot sauce: Top the shredded beef with a spicy salsa or hot sauce to add more heat to the dish.
Remember, it's always best to start with a small amount of spice and taste as you go, so you can adjust the heat level to your liking.
Tips:
For a spicier version, leave the seeds in the jalapeno pepper or add more chili powder.
If you prefer a thicker sauce, mix together 1 tbsp cornstarch and 2 tbsp cold water in a small bowl. Stir the mixture into the cooking liquid before adding the shredded beef.
Leftovers can be stored in an airtight container in the refrigerator for up to 3-4 days or frozen for up to 3 months.
In conclusion, Slow Cooker Mexican Shredded Beef is an easy and delicious recipe that's perfect for busy weeknights or entertaining guests. The combination of spices, beef broth, and citrus juices create a flavorful and tender beef that's versatile and can be used in a variety of dishes. So, give it a try and impress your family and friends with this mouth-watering dish!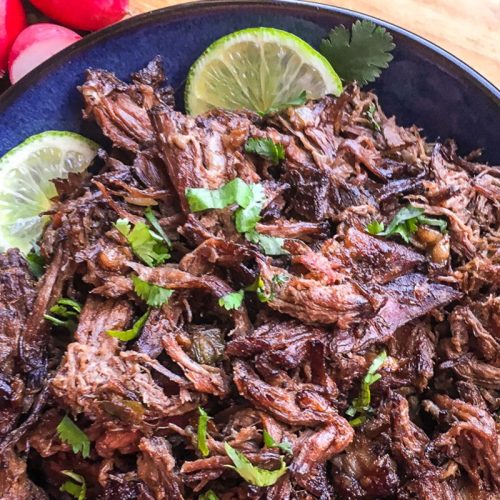 Slow Cooker Mexican Shredded Beef: A Delicious and Easy Recipe
This fall-apart tender and flavorful Mexican shredded beef is several meals in one, making it an ideal go-to for any busy weeknight. The tender and slightly spicy beef is fall-apart tender and melts in your mouth.
Print
Pin
Rate
Ingredients
3

lbs

beef chuck roast

1

lbsp

chili powder

1

lbsp

cumin

1

tsp

paprika

1

tsp

garlic powder

1

tsp

onion powder

1

tsp

salt

½

tsp

black pepper

½

cup

beef broth

¼

cup

lime juice

¼

cup

orange juice

2

tbsp

tomato paste

1

jalapeno pepper, seeded and chopped

1

onion, chopped

4

cloves garlic, minced
Instructions
In a small bowl, mix together chili powder, cumin, paprika, garlic powder, onion powder, salt, and black pepper.

Rub the spice mixture all over the beef chuck roast, making sure to cover all sides.

Place the beef in a slow cooker and add beef broth, lime juice, orange juice, tomato paste, jalapeno pepper, onion, and garlic.

Cover and cook on low for 8-10 hours, or until the beef is tender and easily shreds with a fork.

Remove the beef from the slow cooker and shred it using two forks.

Return the shredded beef to the slow cooker and stir it into the cooking liquid.

Cook for an additional 30 minutes on low to allow the flavors to meld.

Serve the shredded beef on warm tortillas with your favorite toppings, such as shredded cheese, diced tomatoes, avocado, and cilantro.
PIN IT… TO Save It For Later!