Pioneer Woman vanilla mug cake is your solution if you want to eat a cake, but you don't have the time, you don't want to make the effort or you don't have the ingredients to prepare one? Most mug cakes can serve one or two people. And best of all, you can prepare it in a few minutes! Once you have an idea of the basics of making mug cake, you're in for a treat by adding your special touch. A Pioneer Woman vanilla mug cake is very easy to bake and doesn't require much energy, it is the fastest dessert to serve one to two people. Enjoy it! Add small pieces of chocolate or incorporate caramel on top and you will be happy with this beautiful cake.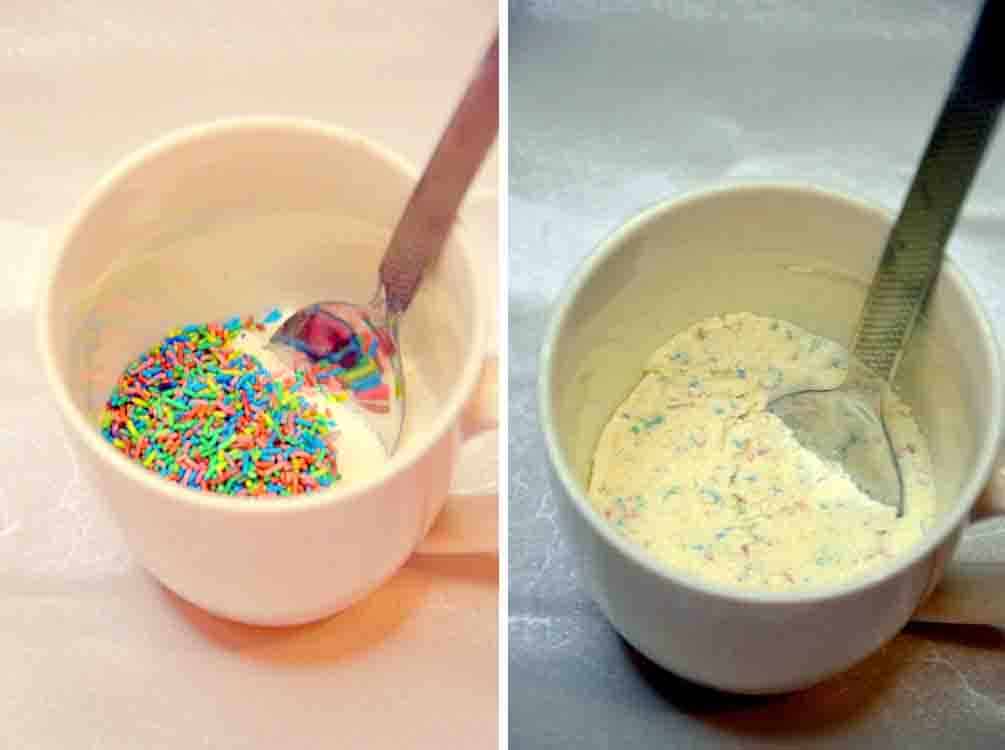 After creating my Pioneer Woman vanilla mug cake recipe, I realized that nothing beats a cake that you can make in a minute, bake in a minute and enjoy without having leftovers for days. Check out all of my dessert recipes for more inspiration.
Really this mug cake made my life easier, no time to lose, save my energy and treat myself on top of that, nothing better! Seriously, it's a simple cake prepared in only 5 minutes.
If you think it's too good to be true, I suggest you try it and you won't regret it believes me! And, if you're fun with chocolate, try my chocolate mug cake or brownie mug cake recipe! If you are passionate about baking and sweets, then your solution is here!
Remember It Later
This recipe! Pin it to your favorite board NOW!
Pin
It is through cooking that I will gain your trust by sharing with you all that I prepare, beautiful and successful dishes. My beautiful Pioneer Woman Vanilla Mug Cake, embellished with vermicelli, is a perfect choice and one of my express, easy and delicious recipes.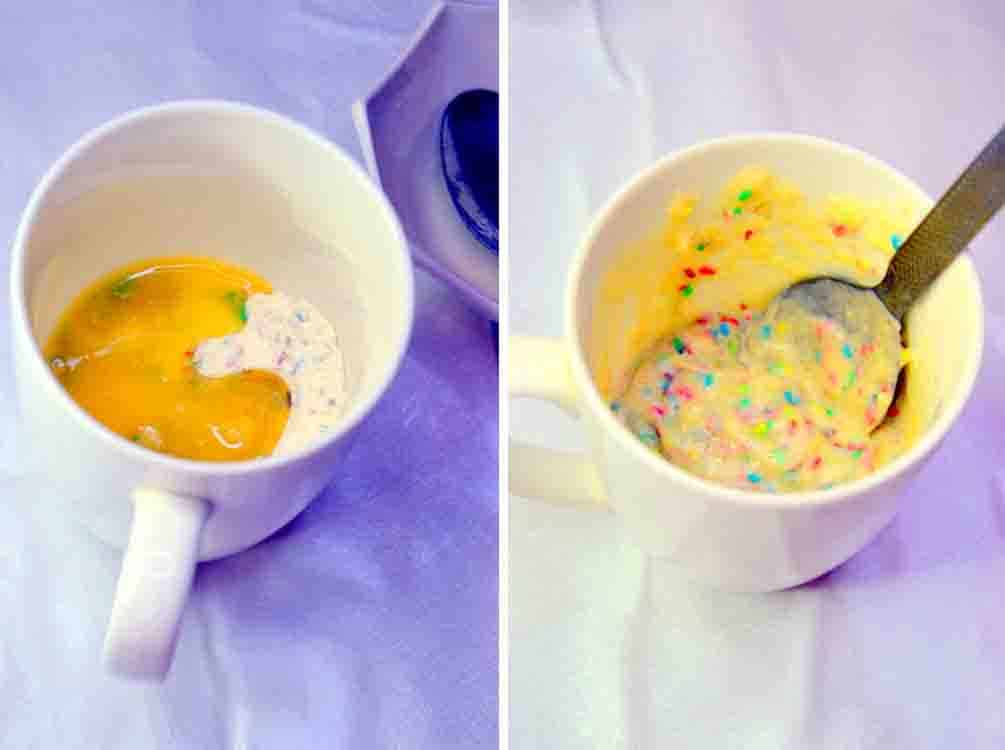 What Is A Microwave Pioneer Woman Vanilla Mug Cake?
Everyone thinks that a mug cake is simply a cake that can be prepared in a cup! Basically, a cake in a cup?
No, a mug cake is not just a cake in a cup as most people think. Not only can the mug cake be made in a short time with small amounts of simple ingredients that you probably have in your kitchen, but it is also an elevated cake because it is only steamed in the microwave.
The mug cake is really delicious, treat yourself without having made any effort, or a delicious overnight snack.
All You Need Is A Few Ingredients, A Few Minutes, And There You Go!
Honestly, this microwave Pioneer Woman vanilla mug cake is always delicious, moist, and really easy.
You can add your special touch and add some modifications to your mug cake for example serve you a scoop of vanilla ice cream on top of the cake, fresh whipped cream, icing sugar sauce and lemon juice, chocolate chips…
Try it once and you will certainly not regret it, it will become your favorite cake. The Pioneer Woman vanilla mug cake is perfectly moist and light.
Do you already like mug cake recipes? Follow this recipe and enjoy the taste of the cake.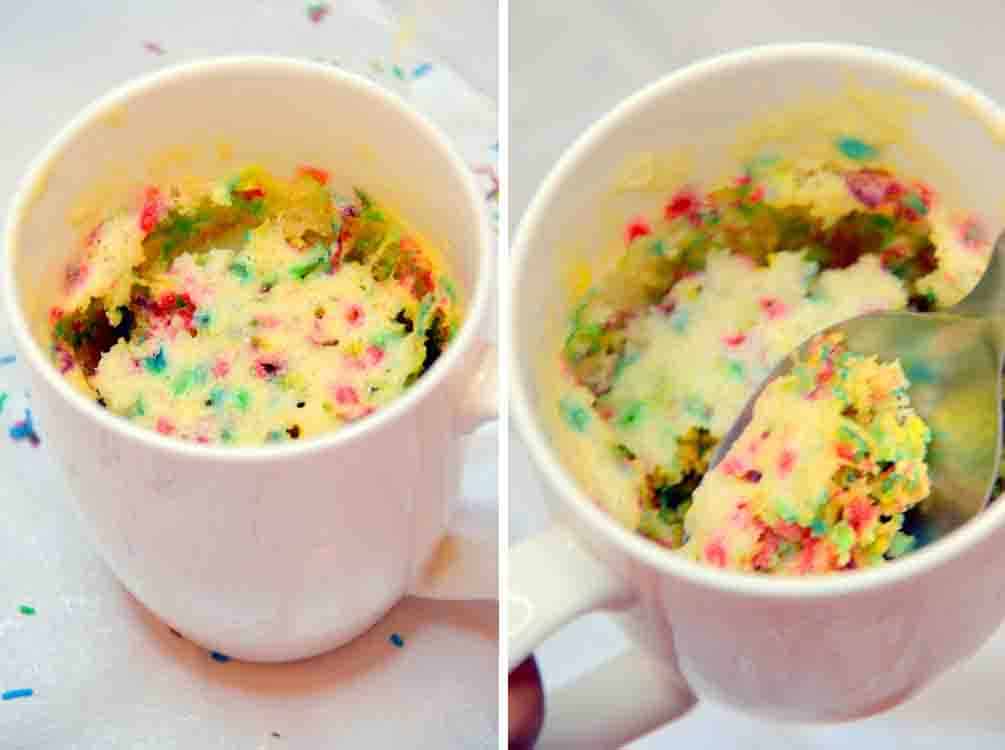 TIPS FOR MAKING PERFECT PIONEER WOMAN VANILLA MUG CAKES IN THE MICROWAVE
I recommend using a medium mug. Don't use a smaller mug, the batter will double in size while baking in the microwave but will
decrease slightly in size afterward.
Be careful not to overcook the cake in the microwave, the power of the microwave should not exceed 80%.
How To Make A Pioneer Woman Vanilla Mug Cake In The Microwave Without Using Eggs?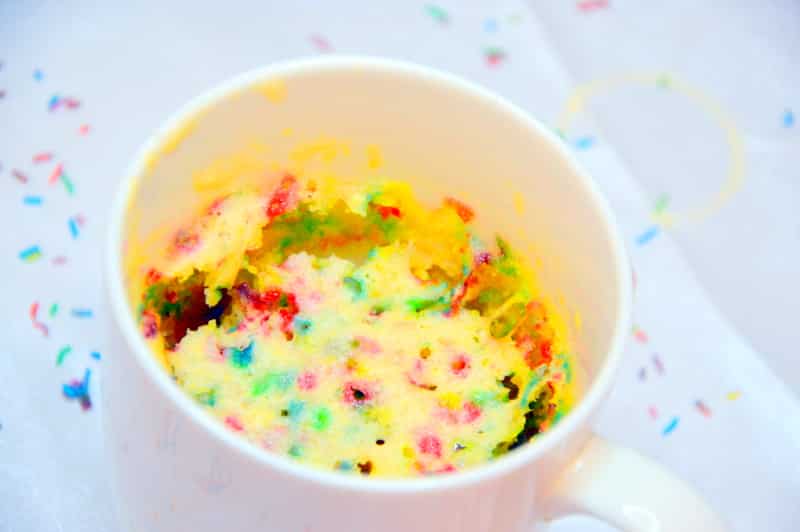 Can You Prepare This Cake In The Oven?
 It is only designed for the microwave. As I am curious and I try to give you the tips of preparation of all my recipes, I tried it but it did not work. Logically, if a large cake requires one or two eggs why put a whole egg in a mug cake? The mug cake is a small cake for 1 or 2 people. You can make it as a dessert with THIS BEST ITALIAN STUFFED SHELLS RECIPE that is so delicious.
Just try it and you will love it, bon appetit!
Other Recipes You Might Enjoy: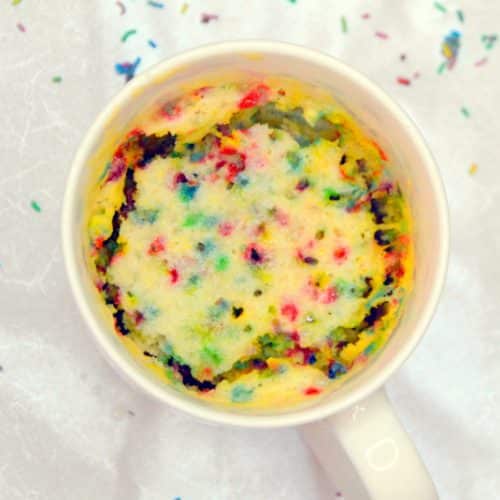 VANILLA MUG CAKE RECIPE
You want to eat a cake, but you don't have the time, you don't want to make the effort or you don't have the ingredients to prepare one? Mug cake is your solution? Most mug cakes can serve one or two people.
Print
Pin
Rate
Ingredients
2

tbsp

Sugar
run of salt

¼

tsp

Baking Powder

¼

cup

Plus 1 ½ tsp all-purpose flour

3

tbsp

Milk

2

tbsp

Unsalted Butter

½

tsp

Vanilla Concentrate

1

tsp

Candy Sprinkles
Instructions
In a mug, combine as one every single dry fixing (flour, sugar, heating powder, and salt).

Liquefy margarine in a microwave-safe bowl.

Add dissolved margarine, milk, and vanilla concentrate to the dry fixings, blend until consolidated. At that point, add sweets sprinkles, blend. The combination will fill about a portion of the mug. It's alright when the cake will be heated, the mixture will rise.

Cook a mug cake in a microwave for 70 seconds permit cooling in a microwave for 1 moment. At that point, check in the event that it set, assuming no, cook for another 15-30 seconds.
PIN IT… TO Save It For Later!