These Roasted potatoes and carrots are two classic and even tastier vegetables, full of flavor, and are the perfect accompaniment to any dish.
Roasted veggies are my favorite meal for dinner any day of the week. Seriously, when in doubt I opt for roasted vegetables. If I don't have enough time or don't know what to make for dinner, I open the vegetable drawer in my fridge, take out what needs to be used and roast it.
Remember It Later
This recipe! Pin it to your favorite board NOW!
Pin
If you need a starting point, let's go for a classic dish with roasted potatoes and carrots, while turning your kids into vegetable eaters.
Roasted vegetables are a dinner staple in my house.
These potatoes and carrots are so good because it's a classic combination and they complement each other perfectly in flavor.
So you can quickly prepare this dish and put it in the oven without much thought.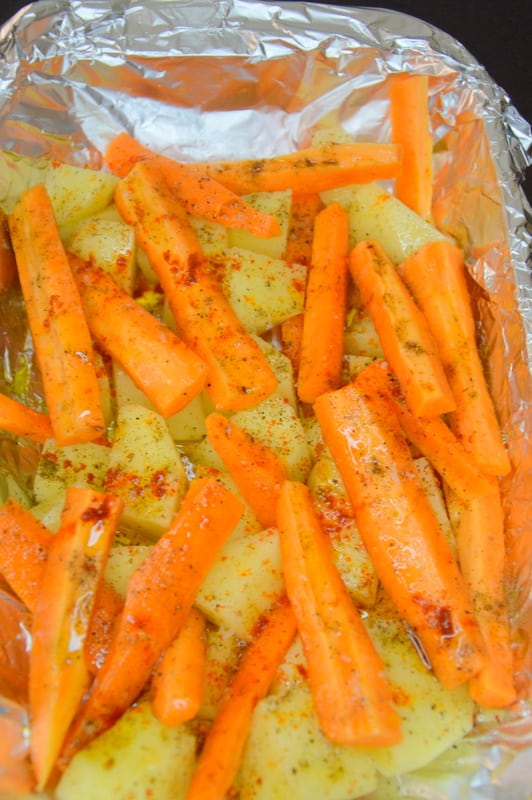 It's a very quick dish. peel the vegetables. Mix them with the spices. Put them in the oven. These roasted potatoes and carrots are a great way to add vegetables to your dishes.
They are perfect for meal preparation. They are easy enough to prepare when you don't feel like cooking.
Everyone has these two vegetables all the time. Carrots and potatoes are available year-round in most stores. And they hold up
in your crisper drawer for a long time, which means that people have carrots and potatoes often.
These two vegetables are present in every kitchen. Carrots and potatoes are available year-round. And they last a long time in your kitchen.
Tasty dish. There is nothing boring in this vegetable dish. It's really easy and very quick and my kids love it. You can make these roasted potatoes and carrots in less than an hour. It doesn't get much easier or more delicious than roasted potatoes and carrots.
ROASTED POTATOES AND CARROTS
You can also use this recipe for a holiday dinner or party as it goes well with any dish on the table. Roasted Potatoes and Carrots are one of my favorite vegetarian dishes. I love it because it is quick to prepare and tastes very delicious, what I like even more about this dish is that the vegetables are soft on the inside and crispy on the outside.
We don't need meat for this dish. I am willing to eat potatoes and carrots because I am a big potato lover. But my husband can't imagine this dish without spicy meat. so I can serve it with juicy steaks or a ground meat casserole.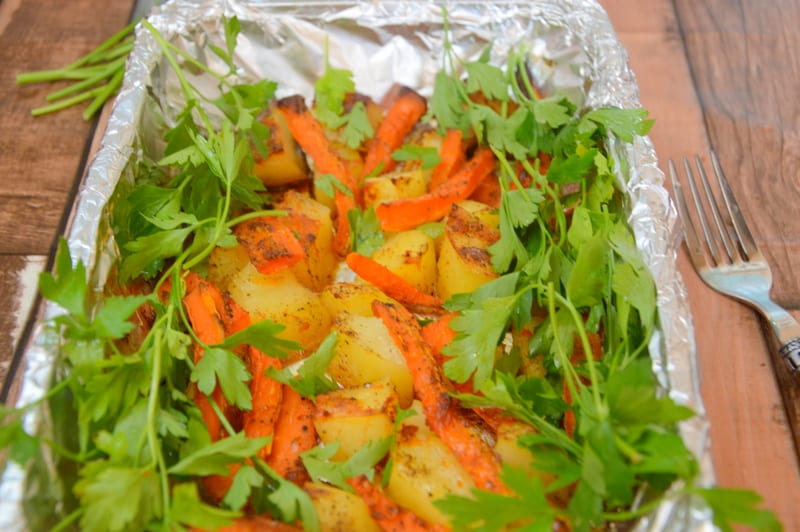 HOW TO MAKE ROASTED POTATOES AND CARROTS? 
Keep salty and sweet. The flavors of this recipe are their thanks to the salty spices salt, pepper… to the sweet which is the honey.
I suggest you prepare in addition the fresh yogurt sauce that I suggested to accompany them.
Refresh it. Roasted potatoes and carrots are the most delicious dish for vegetarians, for more freshness, I opted for yogurt and honey sauce that I have prepared before.
Cook at a temperature not too high. 180c is ideal for almost any roasted vegetable. I tried with a high temperature but it didn't work, the vegetables were overcooked.
Think of a garnish. I served these potatoes with a quick and easy sauce made with plain yogurt, a touch of honey, and some honey flavors.
The honey is a great element and goes perfectly with the roasted potatoes and carrots, and the freshness of the yogurt balances the different tastes of the vegetables.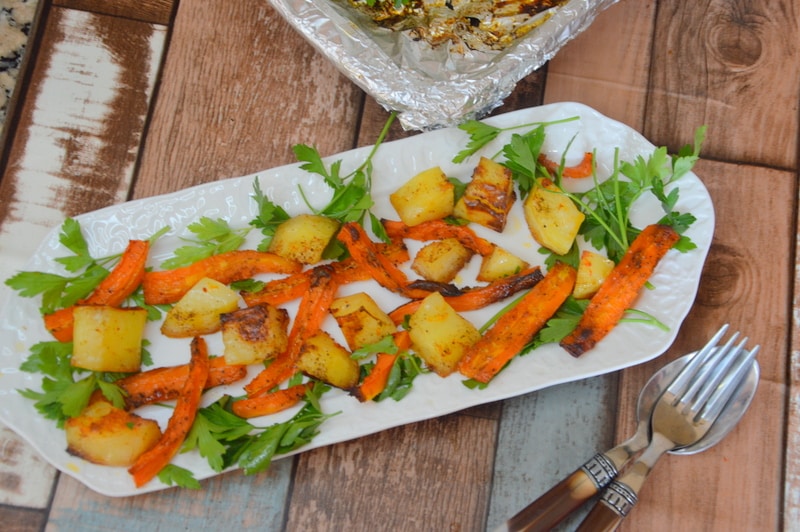 Do Carrots Take Longer To Cook Than Potatoes?
Potatoes need more time to cook than carrots, but to cook potatoes and carrots together. I suggest you cut the potatoes in half or quarters. Make sure the carrots are cut the same size and thinner.
This way, the carrots and potato pieces will be cooked at the same time. do the potatoes need to be boiled before roasting? no, it is not necessary to boil the potatoes before cooking them. for this recipe, we need the potatoes to be soft on the inside and crispy on the outside.
What goes well with potatoes and roasted carrots? as we all know, potatoes and carrots go well with any dish as they can be served along with a fresh yogurt sauce. but you can also serve these roasted potatoes and carrots with a chicken casserole, baked fish, steaks, chicken wings…
How long does it take to boil carrots? it is not necessary to boil the carrots for this recipe. we will roast carrots directly in the oven as we do with potatoes.
Recipe Tips
You can use sugar syrup (well mix a small spoon of sugar in water and let it sit for 5 minutes).
if you don't like spicy dishes, reduce the amount of cayenne pepper.
do not use big potatoes and cut them in two or four pieces.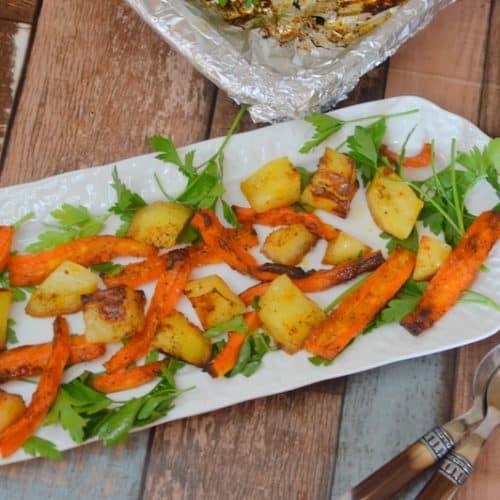 Easy Roasted Potatoes And Carrots
The glorious return of two vegetable lowers that I blatantly ignored at the grocery store in favor of in addition to attractive and in addition to trendy vegetables. Shame on me…
Print
Pin
Rate
Ingredients
1½

pounds

carrots, cut into 4-inch pieces

1¾

pounds

small red potatoes, halved

1

tablespoon

honey

4

tablespoon

olive oil

½

tablespoon

dried oregano

1

tablespoon

lemon zest

½

tablespoon

salt

¼

tablespoon

freshly ground black pepper
Instructions
Preheat the stove to 400 degrees F (200 degrees C).

Throw potatoes and carrots in a huge bowl with olive oil. Add nectar, lemon zing, salt, oregano, and pepper; throw to cover. Spread onto an enormous rimmed preparing sheet.

Cook in the preheated broiler, blending sporadically, until delicate, around 45 minutes.

 210 calories; protein 3.6g; carbohydrates 35g; fat 7.2g; sodium 280.4mg. 
Nutrition
Calories:
210
kcal
|
Carbohydrates:
35
g
|
Protein:
3.6
g
|
Fat:
7.2
g
|
Sodium:
280.4
mg
PIN IT… TO Save It For Later!