I always loved a potato salad, so I made this best potato salad recipe. This potato salad recipe contains mayo and lots of herbs and onions. I opted for mustard and eggs for a better salad.
This recipe is simple and quick to make. I hope this recipe becomes your best potato salad, as well as a standard side dish at your lunch or dinner table. It goes great with burgers, sandwiches.
This delicious potato salad recipe is full of good flavors. Easy to make, and sure to be your favorite potato salad!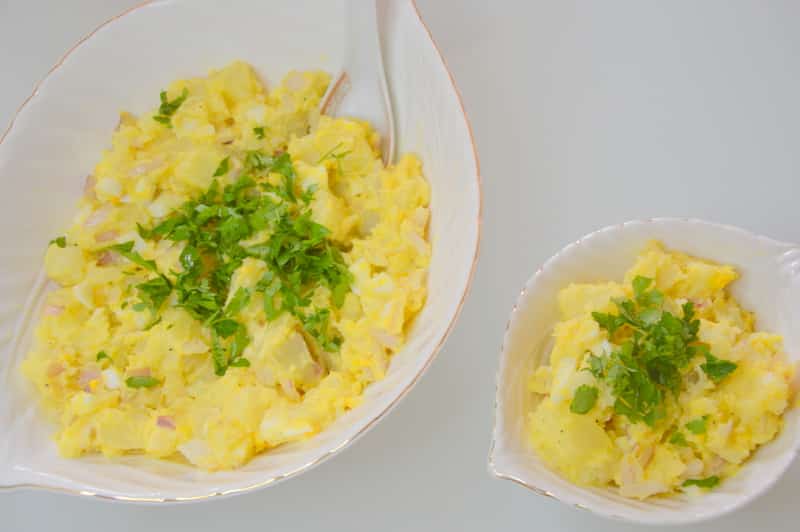 Choosing the Right Potatoes
The potatoes you use will make a variation in your salad's texture. Some cooks like waxy potatoes like redone because they hold their shape while cooking and keep their steady texture in the salad when they're with dressing.
Pro Tater Trick: Potatoes can add color to your salad. Red potatoes are red on the outside and creamy white on the inside, while purple potatoes hold their color all the way through.
Cooking Potatoes
To peel or not to peel? If you would like to add extra color and texture to your salad, leave the skins on. Just be sure to clean them with a vegetable brush before. After cleaning or peeling your potatoes cut them into mid-size pieces, place them in a large pot with water. Use a large enough pot to allow for several inches of headroom to accommodate the boiling water. Bring the potatoes to a boil, then salt the water a little bit.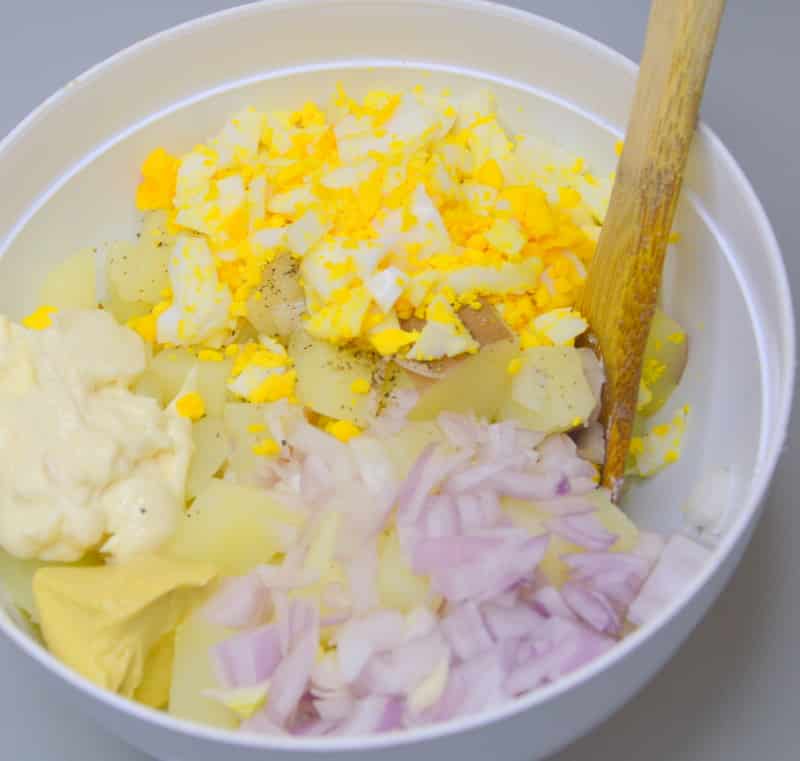 How long to boil potatoes for potato salad? Depending on your definition of "bite-size," the potatoes will take between 10 and 15 minutes to cook. Remember that the residual heat will keep cooking the potatoes a little bit even after draining.
Adding ingredients for the best potato salad recipe
Some people like to let the potatoes take the lead with just a few additions for flavor and texture, while others add as many extras as they can into the mixed salad. It's your potato salad; you make the rules.
Whatever you're making creams or vinegary potato salad, some favorite choices for seasoning the dressing are, paprika, thyme, dried and fresh herbs and spices, and any variety of prepared mustard. These are especially good partners with potato salad.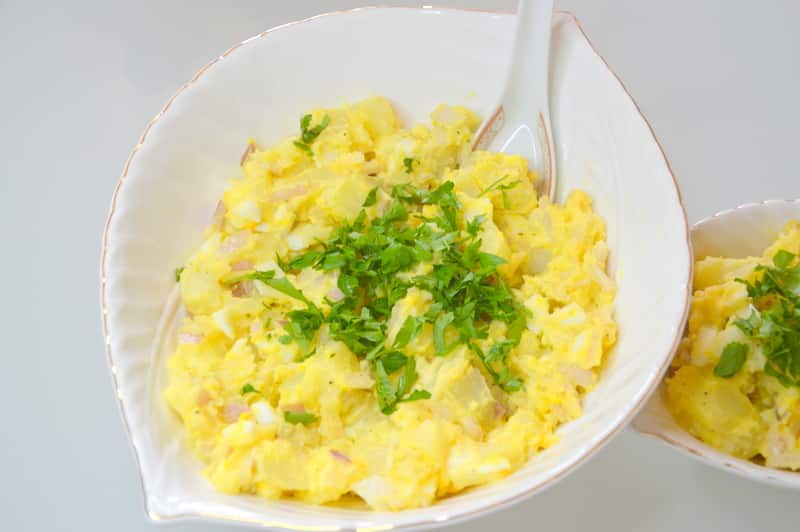 Apart from herbs and spices, there are many other delicious additions:
Tomatoes, cucumbers, apples, sweet bell peppers of any color, pickles, capers, chives, peas, celery, green beans, red onions, green onions, shallots, olives, watercress, and artichoke hearts Crumbled cheeses for example Gorgonzola, blue cheese, smoked cheese, or feta. Raw or toasted nuts and seeds, especially sunflower seeds, almonds, walnuts, sesame seeds, or pecans
Tidbits of cooked or cured meats like chicken, salami, smoked salmon, ham, shrimp, or bacon, and, of course, hard-cooked eggs.
Choosing a Dressing
Are you a creamy potato salad person? Or do you prefer tangy vinegar-based dressings? Time to choose! Creamy potato salads practically always have mayo as a dressing, but can also include sour cream, unsweetened yogurt, and creamy style salad dressings. This style of salad is generally served cold, however, there is much warm variabilities.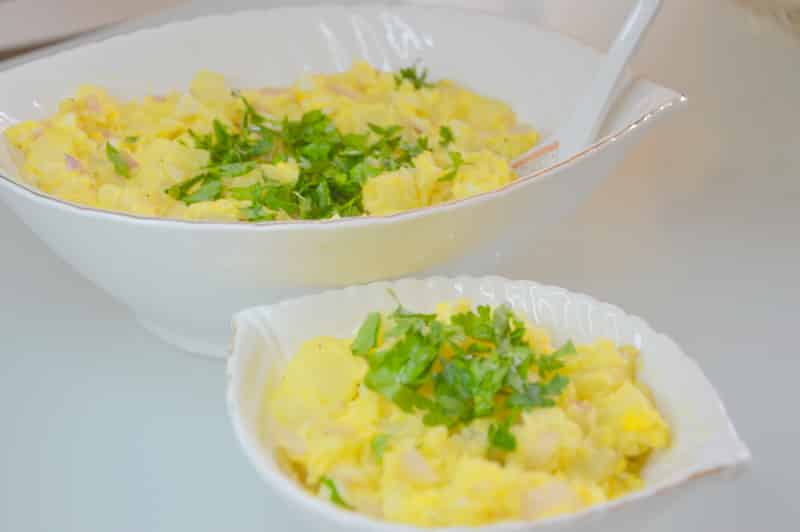 How To Make Easy Potato Salad Recipe
How To Make The Best Potato Salad Recipe. My mom's potato salad recipe is hands-down the best potato salad I, or anyone else who's tried it, has ever eaten
Print
Pin
Rate
Ingredients
3

eggs

4

pounds

unpeeled red potatoes

½

teaspoon

salt

2

teaspoon

milk

1½

cups

mayonnaise

½

cup

sliced green onions

2

tablespoons

distilled white vinegar

1

cup

sliced celery

¼

teaspoon

ground black pepper
Instructions
Heat an enormous pot of salted water to the point of boiling. Add red potatoes, and cook until delicate yet at the same time firm, around 15 minutes. Channel, cool and slash into 1 inch 3D shapes. Spot in a medium bowl.

Spot eggs in a medium pot, and cover with cold water. Heat water to the point of boiling, and promptly eliminate from heat. Cover, and let eggs remain in steaming hot water for 10 to 12 minutes. Eliminate from heated water, cool, strip and dice.

In a little bowl, whisk together mayonnaise, milk, refined white vinegar, green onions, salt and pepper. Pour the blend over the potatoes, and combine as one with the eggs and celery. Cover, and chill in the fridge roughly 2 hours prior to serving.

 315 calories; protein 4.5g; carbohydrates 22.3g; fat 23.7g; cholesterol 72.7mg; sodium 290.5mg. Full Nutrition
Nutrition
Calories:
315
kcal
|
Carbohydrates:
22.3
g
|
Protein:
4.5
g
|
Fat:
23.7
g
|
Cholesterol:
72.7
mg
|
Sodium:
290.5
mg