Mediterranean Smoked Salmon Salad recipe that goes with my current mood that is pretty light, healthy, and fresh. The dreaded bikini season is on its way, isn't it? Lately, I've been making a lot of light meals for dinner. Salads with a little added protein have been a good idea for These days.
To minimize the cleanup, I opted for fresh smoked salmon. It's nice to get out of our routine and enjoy the fresh air while making a nice fresh salad. I bought some beautiful salmon fillets and thought slicing the fresh smoked salmon would be a great way to bring out the smoky taste.
Remember It Later
This recipe! Pin it to your favorite board NOW!
Pin
This beautiful smoked salmon salad is packed with fresh components and is dressed with a lemon and olive oil dressing.
I love salad recipes! Greek salad, quinoa salad, or just a good simple green salad are my favorites especially the fresh smoked salmon salad!
This salmon salad recipe is a main course salad with green salad, smoked fish, cherry tomato. It's nutritious and delicious because it's packed with protein and healthy fats! Make it for dinner tonight or as a lunch for the week!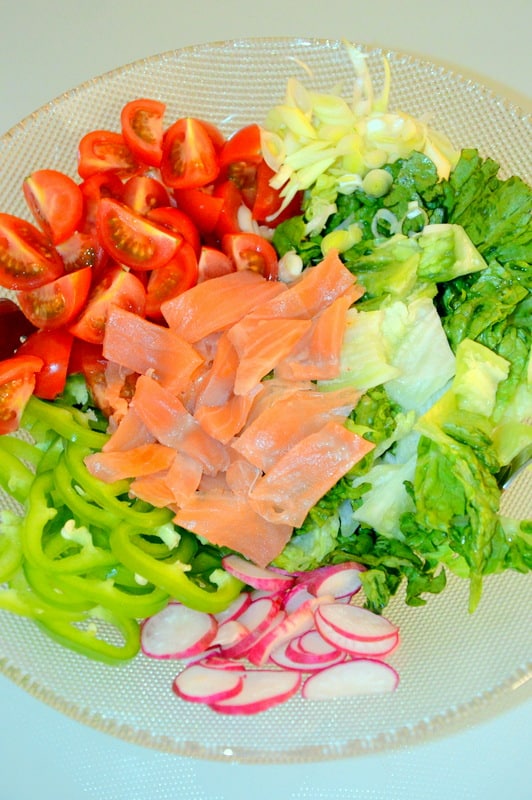 Mediterranean Smoked Salmon Salad is certainly a very easy meal for dinner. The smoked salmon salad is very quick to prepare. That's why I decided to prepare this salmon salad because I love anything with salmon, this fresh salad will be perfect for the summer.
You can prepare your salmon salad using fresh or canned smoked pink or red salmon. In any case, it will be full of fat and heart-healthy. If you have leftover fish, this salad is an ideal meal to prepare with. What I like even more about this dish is that the preparation is quick and nutritious enough to be served as a main course at dinner.
Ingredients Of The Smoked Salmon Salad
What I like about this smoked salmon salad is that it is easily adaptable to your taste buds and you can choose whatever you want to make up the salad!
Fresh vegetables – I like to use lettuce, cherry tomatoes, small lemon slices for freshness. Feel free to add whatever you have on hand. For example, carrots, olives, shallots, etc. Make sure that all the components of the salad are finely chopped so that you can taste everything.
Salad Dressing Ingredients
This smoked salmon salad does not need a heavy dressing. I especially prefer this salad without dressing to keep the natural taste of each component but that does not prevent you from preparing a light and simple dressing based on olive oil, fresh lemon juice, salt, and pepper.
This smoked salmon salad is sure to become one of your favorite salads, full of flavor and texture.
The combination of smoked salmon and lemon is the perfect combination of flavors! Especially when paired with the lemon vinaigrette. If you choose to put the dressing on your salad, you can even use the zest of a lemon and olive oil, which brings out all the citrus flavors. I encourage you to prepare your own special vinaigrette by taking into account the suggestions I have given you, far from the commercial products.
This Smoked Salmon Salad Is So Full Of Flavors And Textures That It Will Certainly Become One Of Your Favorites.
When I made this salad, smoked salmon was on sale at my supermarket, so I bought some of course! They taste wonderful and so fresh. The beauty of this salad lies in its natural flavors and flavors and beautiful colors.
Grab a fork and enjoy this smoked salmon, bell pepper, cherry tomato, and lemon salad today! I am so in love with these photos of my smoked salmon salad! They were exactly as I imagined them. It's a great dish with beautiful colors which is perfect for the warmer weather.
I really wanted to put small slices of lemon in this salad, it adds freshness to the salad. In terms of taste, it adds a special flavor to the salad. I also wondered if I would add a bitter taste to my smoked salmon salad. But believe me, it was very good and it goes well with the smoked taste of the salmon.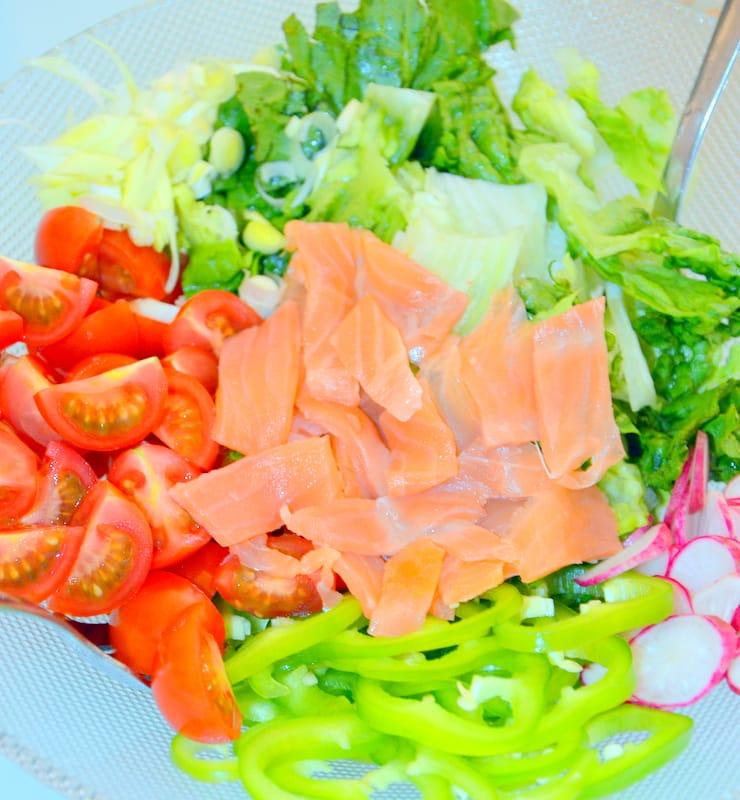 You can even add parsley for more flavor, it will transform the taste of the salad into a very special one. as for me, I chose to add the turnip to the smoked salmon salad which gives a fabulous taste too.
This salad of smoked salmon, lemon, turnip, bell pepper, green salad, cherry tomato, and a little onion is my contribution this week!
This Mediterranean Smoked Salmon Salad can serve 5 people generously. Add some toast and a glass of wine or juice and you have a perfect weekend lunch!
Enjoy this smoked salmon salad and also check the tasty Smoked Salmon And Whipped Cream Cheese Cups and savor the moment while being with your loved ones and families
and enjoy this beautiful dish full of freshness! Good appetite!
Mediterranean Smoked Salmon Salad
This is a salad layered with all the flavors of the Mediterranean. It's full of healthy fats from the salmon, raw veggies, and a creamy dressing to tie it all together. This salad is perfect for lunch or as a light dinner that will keep you feeling energized rather than sluggish!
Print
Pin
Rate
Ingredients
½

pound

smoked salmon, cut into cubes

¼

cup

diced red onion

¼

cup

diced cucumber

¼

cup

diced green bell pepper

¼

cup

diced tomatoes

3

tablespoons

olive oil

2

tablespoons

red wine vinegar

1

tablespoons

Dijon mustard

1

clove garlic, minced

salt and black pepper to taste
Instructions
In a large bowl, combine the smoked salmon cubes, red onion, cucumber, bell pepper, and tomatoes.

In a small bowl or glass jar, whisk together the olive oil, red wine vinegar, Dijon mustard, garlic, salt

Pour the dressing over the salad ingredients and toss to coat.

Season with salt and black pepper, to taste.
PIN IT… TO Save It For Later!